Our Parish Hunger Center Helps Families in Need
The mission of the Hunger Center is to respond to the unmet needs in the church and the community. We pride ourselves and focus on being leaders within the community, by providing social serves and embracing cultural diversity. We focus on innovative approaches to advocacy, education, partnering, and delivery in response to community needs, with seniors and children continuing to stand out as the most vulnerable population.
Ultimately, our goal is to alleviate the burdens of poverty and hunger in our neighborhood and surrounding community.
St. Aloysius has been involved in the distribution of food for over 100 years, providing bags of food to needy families in the Glenville area once a month. Working with nearby parishes and local food banks, the Hunger Center also provides a hot meal program every Tuesday of the week. These nutrition programs are often opportunities for education as well, helping people of Cuyahoga County access community resources, addressing some of the systemic causes of poverty and thus offering the people of the area a sign of hope.
Saint Aloysius operates one of Greater Cleveland's food pantries; serving approximately 500 families per month with a 3 day supply of groceries (includes dry goods, fresh produce, other perishables and meats). Residents in need of emergency assistance can come between the hours of 9:00 am and 3:00 pm M-F and Sat. 9:00 am to 12:00 pm.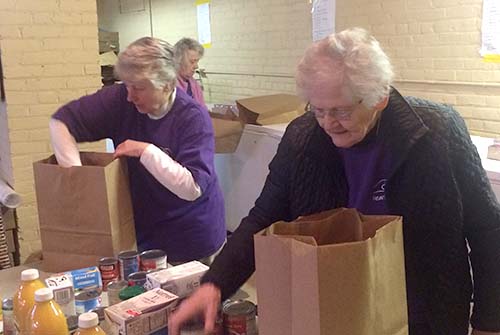 The Regular Monthly Grocery and Produce Distribution
Distribution takes place every 4th Saturday of the month from 9:00am- 11:00am
(This includes fresh produce, bread and pastries?)
Holiday Food Basket Distribution
Holiday baskets will be distributed on the following dates from 8:00am to 11:00am:
Nov. 18, 2017
December 20, 2017
Community Meals (Open to the community)
Hot home cooked meals offered every Tuesday of the week 5:00pm-6:00pm
Home Delivery
Food for the homebound and disabled populations are prepared and delivered every month for approximately 175 households.
Emergency Groceries
Emergency food is available by contacting the Parish House Monday-Friday between the hours of 8:00 am and 5:00 pm.
Health and Nutrition
A free 8-week nutrition education series for parents/grandparents and other food and nutrition education programs are offered throughout the year, often in conjunction with the weekly hot meal.
St. Aloysius – St. Agatha Parish
10932 St. Clair Avenue Cleveland, OH 44108
Parish House: 216-451-3262 Fax: 216-268-3830
Office Hours: 8 a.m. to 1 p.m. Weekdays
Click here for St. Aloysius – St. Agatha School
640 Lakeview Road Cleveland, OH 44108
School Office: 216-451-2050 Fax: 216-268-3830
Office Hours: 8 a.m. to 3 p.m. Weekdayss